Shell Ejection Soft Bullet Gun
🔫Shell Throwing Effect
There will be a simulation shell ejection effect every time the load is launched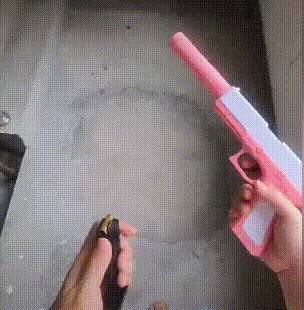 Soft Bullets Shell Jump: Toy gun magazine can load 8 pcs of darts, after every shooting, pull back gun slide and the bullet shell will jump out. Bullet will travel about 20 feet for safety.
Slide of toy must be fully pulled back and only once per shot to avoid damage.
Safe & Durable: This Toy Pistol is made of high-quality ABS material, the lightweight sponge material will not be hurt when hit.
100% safe and harmless as they are made with super-soft foam. Fun active and challenging for 6+ Ages Kids
This education toy model magazine can be loaded with 8 bullets , spring loaded slide action with great sound, and magazine release button. Great for teaching gun safety and training. Intended for fun, not distance or accuracy, great shooting game for kids, teens and adults.
Realistic Gun Model: Kid learning toy Glock G18 shape, fits any equipment made for the real thing. Made of high-quality ABS material.
Great gift for children teens who might be interested in learning to shoot. Anyway got this as a gift for kids or parent-child fun, this blasters nerf guns must be surprise when kids got it!