Multi Function Circular Saw Kit
What features does our Multi-function Circular Saw have?
1. Adjustable Cutting Lever
This allows you to choose between shallow, medium, or deep cuts, making it so useful for any type of project, whether you're trying to avoid cutting wire behind drywall or slicing straight through a piece of solid wood or metal. Simply adjust the Blade Guard to the cutting height you want and start cutting away.
2. Cuts in any Direction
Horizontally, vertically, straight and curved lines, corners, and even upside down for easy shallow cuts on ceilings. The saw's guide allows you to see exactly where you're slicing through, making it perfect for any shape your project requires.
3. Extremely Compact & Reliable
With a 400-watt motor inside a construction-grade case that's durable, incredibly light and fits easily in the palm of any hand, making it the most versatile, durable, lightweight and portable power tool ever made.
4. Cuts Through All Material
The days of having to use a different saw for every job are long gone! Our Multi-function Circular Saw can cut through everything you need it to simply by changing the blade!
What Are The Different Blades For?
The Diamond Blade is ideal for ceramic tile, grout, masonry, marble, and stone
The Tungsten Carbide Blade makes cutting hardwood, plywood, laminated flooring, drywall, pegboard, and PVC an easy job
The High-Speed Steel Blade specializes in cutting right through metal and steel, as well as carpet.
HEALTH AND SAFETY:
– Wear protective gear at all times when operating the saw
– Do not let anybody under the age of 18 operate the saw
– Only turn on the saw when the blade is facing away from you and anybody else nearby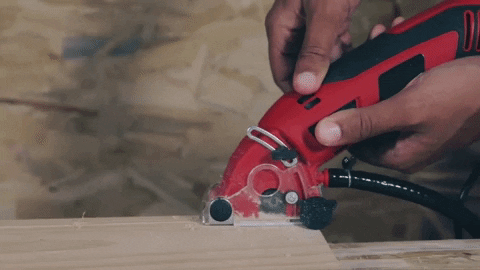 Cut it Out – and Get A Tool You Can Depend On!
Make cuts in of any direction/ depth with a tool that is easy to use and give the professional result you need!
For a range of users performing home DIY, woodworking, metalworking and decorating tasks around the home, garage and workshop, invest in a safe, reliable and versatile tool – stay a cut above the rest with this great tool!
ECO-FRIENDLY MATERAIL 100% SAFETY
Non-Toxic Material, Can pass chemical testing of Californica 65, 7P and PAHS as well as Reach Requirement
Sturdy Blow Mold Case
Perfect Blow Mold Case Tooling without Component Falling Off
All the package passed Drop-Test,No need to worry about the demage during transportation
PREMIUM QUALITY WITH GE CE APPROVAL
The Circular Saw Machine is GS and CE Approval, meet EU market quality requirement
Product Description
♦400W Multi Functions Circular Saw
3700RPM Max Speed – 12mm Cutting Depth – 3-pin Plug
♦6 x Saw Blades:
– Diamond Blade is ideal for ceramic tile, grout, masonry, marble and stone
– Tungsten Carbide Blade makes cutting hardwood, plywood, laminated flooring, drywall, pegboard and PVC an easy job
– High-Speed Steel Blade specializes in cutting right through metal and steel, as well as carpet
♦2 x Hex Keys
For Blade Changing and adjustment
♦Dust tube
Collects and extracts dust – can be fitted to most standard vacuum cleaners
400W Multi-Function Circular Mini Saw
Low Overall Weight and comfortable rubber grips ensure you can maintain firm hold on your tool
Powerful 400W Motor Capable of cutting through a range of materials including Wood, Metal, Flooring and Drywall
Depth Gauge lets you set the depth and get the exact depth that you need
Blade Housing protect user from the spinning blade and any debris that may fly off
Dust Extraction Tube keeps your work area clean
Blade Replacement Way
Without Removing the Guard