Ambilight USB LED Strip
✨Make your movie or game as shocking as in a movie theater.✨
Multiple bright colors make images and movies in tv more vivid. It also balances the brightness of unlighted wall and your tv PC screen which greatly decreases your eyes strain.
FEATURES:                       
✔️Protect your eye✔️: Watching TV in the dark causes the eyes to constantly adjust between a bright screen and dark surrounding area. tv backlight elevates the ambient light, reducing eye strain and headaches., reducing the eyestrain caused by differences in picture brightness, creates a beautiful bias lighting when watching TV
✔️Safe to Use✔️: Working voltage of 5V and equipped with short circuit protection and memory function. waterproof, extremely low-heat, touchable, and safe for children. The lights tape on the back come with a strong adhesive, Sufficient brightness to ensure a perfect backlight experience during the day
✔️Easy installation✔️: LED strip light is 13.2Ft can be cut with scissors on the cut marks (white lines) to fit the desired size of your TV. USB cable is 16 inches. Use the 3M adhesive. No need to connect the connector, open the package and use
✔️SPECIAL MUSIC MODE✔️ : Spectrum with light and colors adjusting automatically base on the ambient sound, LED lights sync with the music. The strip light suits any type of music, including slow, relaxing tunes and dance music.
The hardware analyses what you currently have on the screen, be it a movie, a game, or anything else, it'll send this information to the device which in turn lightens the surface behind the screen with matching colors using the RGB-LEDs available within the device.
Customer Questions & Answers:
1.Question: So is HDCP 2.2 supported, 4K, HDR, VRR, Dolby vision?
    Answer:  Yes, sir, the box supports what you said, Youtube and Netflix can use it, too!
2.Question: Does this work for pc gaming?
Answer: As long as you are connected to a monitor with HDMI or USB, then the box can be used
3.Question: What if our TV or computer has only one HDMI or USB?
Answer: Don't worry, we will provide an HDMI and USB conversion head for every order for free, which will not affect your normal use
4.Question: Our computer is IOS system, can it be used?
Answer: No problem
5.Question: Is this product only available for Android smart TVs?
   Answer: What you said is the product of 2019. Last year it was like this. You don't have to be so troublesome this year. We solved all the problems. Both smart TV and non-smart TV can be used, as is satellite TV.
6.Question: How does it work?
Answer: when our product is connected to a TV or PC, it will recognize the color around the screen, and each area around the screen corresponds to the color of a part of the light bar. There is almost no delay. You only need to purchase the corresponding size of the TV or PC light bar to correspond to the color of the light bar in the area.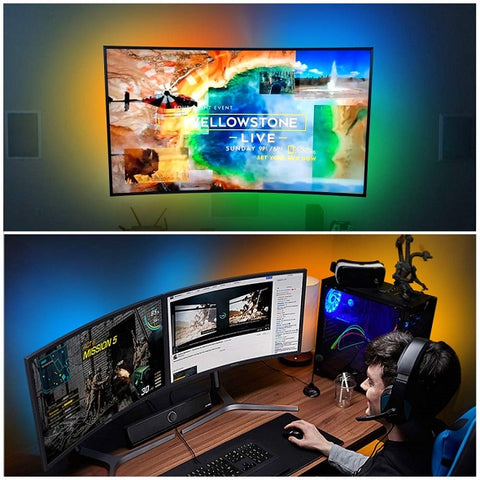 INSTALLATION METHOD:
Please read the instructions before you mount the light, you can also create your own installation method according to your own preferences.
Clean the dust, ensure the back of your TV is free from dust before installation to avoid falling off.
just stick the strip lights on the smooth surface and connect according to the instructions. Our LED strips have stronger 3M adhesives than other LED strip brands. They stick well to TVs, PC, cabinets, and walls.
Remember to connect all things done, and test whether it is light up, then peel off the tape and install on your TV or somewhere you like. then plug the USB and use the remote to control.
Ambilight adds ambient backlight effects to Computer or laptop compliment on-screen video content.
An Ambilight kit dynamically adjusts elements such as color and brightness to create a more immersive multimedia experience.
This kit working with computer ONLY !
What software is needed?
Windows: Ambibox or Prismatik
Mac Os/Linux: Prismatik
If you want to use this kit for TV,please try these method:
1, the video signal of the computer is output to TV, TV as monitor.
2, install or run Openelec/libreelec+Hyperion on your TV/TV box.

Attention:The led strip only work properly after installation on TV or computer screen. If only few led light up. Itrsquos not quality problem! Please check the installation and setting. Please follow the Instruction to set up the strip kit.
Setting up the Ambibox Capture Software.
Step 1: Install LED light on your PC. (please refer to the video for details,//youtu.be/gNxlWIsgwvI )
Step 2: Setting up the Ambibox Capture Software.
2.1. Ambibox software(Shareware);Download link: //www.ambibox.ru/en/index.php/Main_Page
2.2. Run the Ambibox software, when installing, it recommends to use PlayClaw, I wouldn't recommend to using it.
2.3. Select device and set this as "Adalight", under menu of "Intelligent backlight display", select the Port and the COM Port that your device has been detected.if you're unsure have a look in device manager. If select correctly, you can see Device Status: Connected, also down the bottom left it will say Adalight: connected.
Note: The USB Port should be CH340(COM*),if not have ,please download the CH340 Driver.
//drive.google.com/open?id=1GS5FrjN5620I_RKJMOe5IAGNSqlke9jC
2.4. In here you can also select you capture method I suggest GDI FS Aero or PlayClaw. Now under number of zones select the number of IC's you have, and it will be one IC for every LED.
Once you setted up, you can select the "Wizard capture zones" which will automatically generate all capture zones for you.
In here you can also select you capture method I suggest GDI FS Aero or PlayClaw. Now under number of zones select the number of IC's you have, and it will be one IC for every LED.
Save your settings and now you should be able to give it a test!
NOTE:
THE led strip only works after installation and setting.
× If just connect to Power & USB, it does not work!
PRO TIPS: if you find your colours are washing out or seem very white rather than colourful, adjust your gamma settings, if you getting a white backlight on a pure black screen, increase the size of sample zones, It will take a bit of fine tuning but worth it!