Smart Cat Toy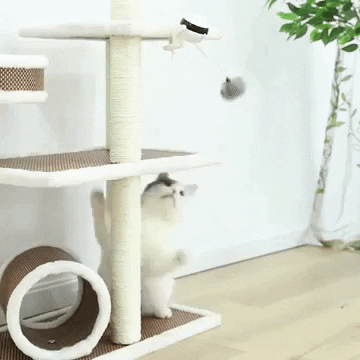 Our cats can get stressed and bored too. Smart Cat Toy is the #1 rated and most in demand cat toy in the world that has been designed to give your cat countless hours of playtime.
After turning it on, the ball is automatically lowered and lifted and its Smart Motion Sensor will effectively detect your cat playing patterns. The Smart Cat Toy can also be automatically turned off after 5 minutes in order not to over exhaust your cat.
The portability of the Smart Cat Toy makes everything better! Clip it on to your desktop, your table at home and literally anywhere you'd like.
The Smart Cat Toy is an amazing way for your cats to release energy! Make playtime more enjoyable by simulating their instincts!
Always rechargeable, made with high quality material and top-notch high-tech, the Smart Cat Toy is here to stay. Interactive and fun, give your four legged friend the toy of their dreams.
HOW TO INSTALL
Installing the toy is super easy. Simply load two AAA batteries and connect the plush ball to the adjustable base. Then simply press ON/OFF switch at the top and watch your cat have plenty of fun.
Features:
1. Atmosphere creation: appearance like listening to a small cat simple atmosphere upper class cat toy.
2. Convenient to use: the cat can play by itself without affecting your work.
3. Easy to use: clip it on the desk, clip it on the cat table to play with the cat, take the cat to exercise.
4. Convenient to use: when the toy is triggered, it can be turned off automatically for about 5 minutes, or the button can be turned off again during the operation of the toy.
5. Attractive toy: the hair ball can be replaced by other toys, your cat will fall in love it.
Specification:
Size: about 4cm / 1.57in in diameter
The length of the rope is about 60cm / 23.62in.
Material: ABS + hair ball
Carrier: 10 kg rope load
Suitable for: 1-4 m table top
Battery: 2 * AAA (not included)
Accessories: with screwdriver, no battery.