Multifunctional Stylus
Don't you just hate it when you need a pen or screwdriver but don't have it in your bag?
This incredible 6-in-1 Multifunctional Stylus Pen is everything you need!
It consists of a ballpoint pen, ruler, spirit level, touch screen stylus, Phillips, and flathead screwdrivers!
The perfect handy tool that you can carry inside your bag, pouch, or pockets!
The compact and durable design will not collapse even when used for a long time!
This amazing 6-in-1 Multifunctional Stylus Pen is the most convenient tool!
The tech tool pen comes with 6 very handy functions: A ruler, a spirit level, a ballpoint pen, a stylus, a flat-head and phillips screwdriver.
The Versatile And Compact Pen!
The versatile and compact pen that is perfect for all your weekend projects!
The perfect addition to your toolbox!
Even when designed with different functions, this lightweight 6-in-1 Multifunctional Stylus Pen is easy to write with!
Robust Design And Incredible Functions!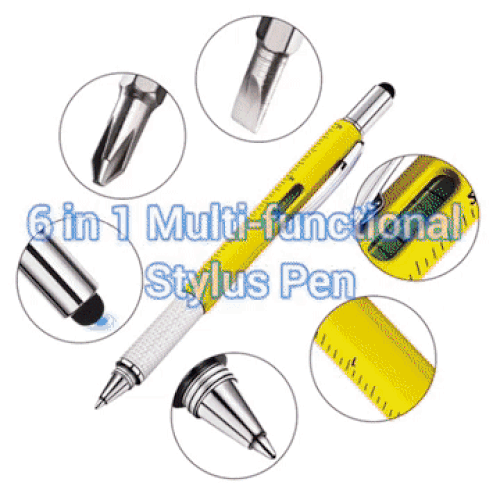 The pen has a durable and stable design that is not easy to break!
Made with fine workmanship that will give you a comfortable grip for easier writing!
The perfect gift for someone who loves pens and DIY home improvement!
Your children can enjoy this too and role play as James Bond with this gadget-like tool pen!
Not just for writing, this multifunctional tool will save space in your toolbox or bag!
Why waste your money buying 6 different tools when you can have it all with this remarkable 6-in-1 Multifunctional Stylus Pen!