Cat Scratch Guard
IT'S IMPOSSIBLE TO TRAIN CATS FROM SCRATCHING…
IT'S PART OF THEIR FELINE NATURE!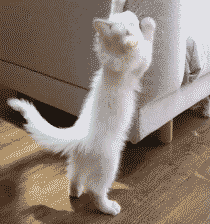 The solution? Cat Scratch Guard will definitely suit cat lovers, and leaves you with a 100% scratch-proof furniture!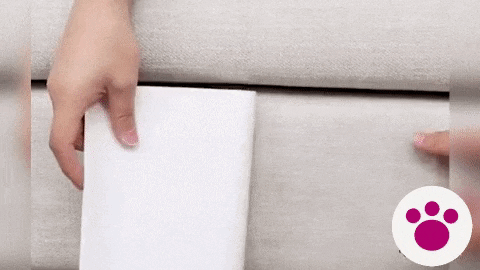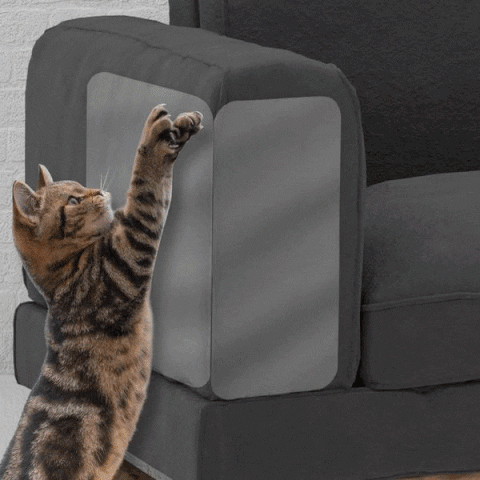 Note
Please keep the twist pins fixed and check that they will not loosen to avoid hurting the cat claws after the twist pins fall. Not recommended for leather or hard furniture because of the twist pins.
【Safety & Transparent Design】
Environmentally friendly, Non-toxic, Flexible and Clear vinyl.The transparent cat scratch Deterrent design allows your furniture to be protected without affecting the aesthetics of the furniture. twist pins can effectively and better fix cat scratch guard, preventing cat sticky strips from falling off easily. Since cats don't like sticky surfaces,cat couch protector can train your cat well and make you like your cat more.
【Protect The Furniture & Training Cats】
Fix the smooth and non-adhesive side to the furniture with Twist Pins, only one side of the product is sticky. Damage to your sofa and furniture. The sticky side is facing outward. When the cat's claws touch this side, you can train them to dislike the touch of furniture with cat scratch furniture tape, and finally no longer touch your furniture.
【Installation & Removal】
STEPS:
1. Clean the surface of the sofa or furniture and keep it dry and tidy.
2. Cut and customize the size and shape of the protective pad.
3. Peel off the self-adhesive pad, cover the place you want to protect with the non-stick side, and fix the four corners with twist pins.
4. Check if the twist pins are fixed well and not loosened to ensure that they will not fall easily. When your cat learns to not scratch where you don't want it to, you can simply remove the tape.
【Range of Application】
cat furniture protectors are high quality and flexible and they can safely held in place to upholstered furniture with the provided twist pins. You can use it on any upholstered furniture you like (such as couch, chair, door, wall, car seat), encouraging your cat to look after its claws without damaging your furniture.